We Provide Exceptional Level Of Office Cleaning Services In Richmond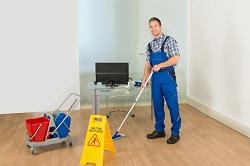 Why Choose Us for Office Cleaning in Richmond?
We at Carpet Cleaning Richmond understand that finding an office cleaning service can be a tough process, especially when you take into consideration all the choices available within the TW9 area. That's why we have made our own selection criteria that has allowed us to assemble a team of experienced and knowledgeable office cleaners who are proactively aiming to provide the most comprehensive, efficient and cost-effective service in the local area.

Our professional expertise is unparalleled, which is why we are one of the leading providers of office cleaning Richmond services. Plus all of our staff are fully trained and insured, so you can have peace of mind knowing that your premises will be taken care of with the utmost diligence and care. And if that isn't enough, here are some more reasons to choose us:



Flexible Service: We offer a variety of services depending on your requirements; including pre-scheduled visits for regular maintenance jobs or one-off visits for deep cleans.
Guaranteed Results: All of our staff are dedicated to delivering outstanding results every time, so you can depend on us to exceed expectations.
Affordable Rates: We offer competitive rates for all types of cleaning jobs. So if you're searching for an affordable solution for your office cleaning needs, look no further.
Environmentally Friendly: We use only eco-friendly cleaning products to ensure that your premises remain healthy and safe while also protecting the environment.
Office Cleaning Services in Richmond

At Carpet Cleaning Richmond, we offer a full range of office cleaning services throughout Richmond and surrounding areas including TW9. Our team has experience cleaning workplaces ranging from small offices to large commercial buildings as well as multi-story complexes. No matter what size your premises may be, rest assured that our cleaners will provide an impeccable service tailored just for you. Here's just a few examples of how we can help you maintain a clean and tidy workplace:




Kitchen & Pantry Cleaning: Keeping the kitchen clean is essential to maintaining a healthy atmosphere within the workplace. We offer thorough kitchen & pantry cleaning services which include everything from vacuuming floors to wiping down surfaces.
Carpet & Upholstery Cleaning:

Don't let dirty carpets detract from the look and feel of your office! Our specialist carpet cleaners can deep clean any type of carpet or upholstery effectively removing dirt, dust and allergens.
Window Washing: Keeping windows clean is crucial for any business! Our professional cleaners use quality detergents and advanced technology to ensure sparkling results with absolutely no streaks.
We understand how important it is to keep an office clean and looking its best at all times; it reflects on not only the professionalism but also the productivity of employees inside. That's why our team of experienced Carpet Cleaning Richmond
From pre-scheduled visits for regular maintenance jobs, such as kitchen & pantry cleaning, carpet & upholstery laundering, window washing - or one-off visits for deep cleans - our staff are always on hand to provide prompt solutions tailored specifically around your needs. With our extensive knowledge combined with many years' experience in this field, all members of our team use only eco-friendly products so as not to impact negatively on either health or the environment around us. Plus all staff are fully certified and insured - giving you complete confidence when relying on Carpet Cleaning Richmond for all your office cleaning solutions in the Richmond area.

As well as offering great value for money on exceptional service levels, we also believe in providing a number of other benefits which makes us stand out from other providers within TW9 area:


24/7 Availability: Carpet Cleaning Richmond provides customers with round-the-clock support - so whatever your schedule may be, we have someone available whenever you need them.
Friendly Team:

Carpet Cleaning Richmond employs friendly yet diligent experts who know how important it is for your office space both looks its best but also free from germs too.
Specialised Equipment: Carpet Cleaning Richmond invests heavily in using specialised tools only available by highly experienced professionals ensuring whichever job they take on gets completed without any hitch.



So why not contact Carpet Cleaning Richmond today on and let us do what we do best - ensuring you get trusted assistance which fits the needs